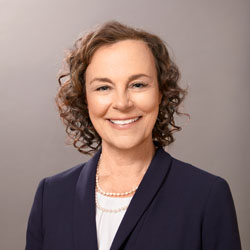 Judge Lynn M. Egan was a Cook County Circuit Court judge from 1995–2017 and served in the Law Division for nearly 22 years. She presided over high volume motion calls, an Individual Commercial Calendar, an Individual General Calendar and bench and jury trials.
For several years before her retirement in 2017, she was the only Cook County judge assigned to a General Individual Calendar in the Law Division, which includes every type of case filed in the Division, specifically including personal injury actions such as medical and dental malpractice, product liability, infliction of emotional distress, defamation/slander, premises liability, construction & motor vehicle accidents, as well as commercial disputes such as breach of contract, fraud, conspiracy, breach of fiduciary duty, wrongful termination, employment discrimination and legal & accounting malpractice. She managed these cases from time of filing until final disposition, including all motion practice, case management, settlement conferences and trials.
Settlements totaling more than $275 million
Additionally, Judge Egan was committed to assisting parties with the voluntary resolution of cases. As a result, hundreds of cases pending on other judges' calls in the Law & Chancery Divisions & the Municipal Districts were transferred to Judge Egan each year for settlement conferences and she helped facilitate settlements totaling over $275 million.
Served as Member of Illinois Supreme Court Committees
Judge Egan also served as a member of several Illinois Supreme Court Committees, including the Executive Committee, Discovery Procedures Committee, Civil Justice Committee and Education Committee. She was also a faculty member at dozens of judicial seminars throughout the state, including the annual New Judges' Seminar, regional conferences and the mandatory Education Conference. She authored numerous articles on subjects such as discovery, requests to admit, restrictive covenants, Day-In-The-Life films, directed verdicts, jury selection & instructions, Dead Man's Act, Supreme Court Rule 213, expert witnesses, reconstruction testimony, court-ordered medical exams, attorney-client/work product privileges, sanctions, special interrogatories, examination of experts and damages. She also served as a mentor for new judges and the Illinois Courts Commission, a seven-member panel responsible for rendering final decisions on matters of judicial discipline.
Judge Egan has served on Bar Association committees and Boards of Directors and has been a frequent speaker at Bar Association seminars. She has taught law school classes and judged trial & appellate advocacy competitions.
Monthly CLE Seminars
In 2012, she became a registered CLE provider through the Illinois MCLE Board and provides free CLE seminars for attorneys and judges every month. Since her monthly seminar series began in August 2012, Judge Egan has awarded over 13,000 hours of free CLE credit to Illinois attorneys.
Prior to joining the bench, Judge Egan was an equity partner at Hinshaw & Culbertson, where she focused her practice on medical negligence cases. In addition to trial work, she argued before the Illinois Supreme Court on a matter of first impression in the country in Cisarik v. Palos Community Hospital. Similarly, during her earlier career in the Cook County State's Attorney's Office, she worked in the criminal and juvenile divisions and argued before the Illinois Appellate and Supreme Courts on matters of first impression in Illinois.