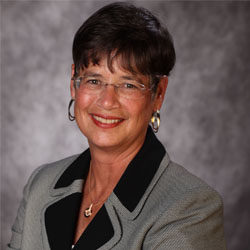 Circuit Judge Hollis L. Webster (Ret.) served DuPage County for more than 21 years, spending over half of that tenure as the Presiding Judge of the Law Division. She was instrumental in creating the DuPage Court Annexed Civil Mediation Program and served as its Supervising Judge for 10 years.
Judge Webster developed a keen interest in alternative dispute resolution, becoming certified as a trained mediator by the National Judicial College and later completing their Advanced Civil Mediation program. She routinely successfully mediated cases sent to her from other Law Division or Chancery Judges.
Webster has assisted in the resolution of numerous multi-million dollar personal injury and contract cases, and a wide variety of other matters including municipal, contract, construction, trade secret, product liability, partnership disputes, declaratory judgment and professional liability.
As a trial judge handling an individual civil law calendar for 16 years and an active mediator and arbitrator since her retirement, Judge Webster is committed to the "win/win" approach of mediation and the cost savings of arbitration.
Trial and Judicial Experience
Judge Webster began her career as a judicial law clerk for the Hon. John A. Nordberg in the U.S. Federal District Court in Chicago.
She joined Hinshaw & Culbertson where she honed her trial practice as she defended physicians and hospitals in medical malpractice cases, professional liability and tort matters.
She was named a partner in the DuPage office of Hinshaw & Culbertson prior to her appointment to the bench in the 18th Judicial Circuit in 1991.
Circuit Judge, DuPage County, Illinois (1995-2012)
Associate Circuit Court Judge, DuPage County, Illinois (1991-1995)
Supervising Judge of Court Annexed Civil Mediation (2001-2011)
Presiding Judge of the Law Division (2001-2011)
Chair of Supreme Court Committee on Judicial Education (2005-2008)